This post may contain affiliate links. For more information, visit my disclosure page.
Also, "as an Amazon Associate I earn from qualifying purchases."
MoneyLine Review. This Seems Totally Far-Fetched! Is It?

MoneyLine Review: FREE LEADS?! MoneyLine (Formerly Global MoneyLine) is a platform that's been around for awhile, but is getting a lot of buzz lately. Why? Maybe because when people join, they are awarded an endless amount of free leads to whatever website they are promoting!
When I heard this, I joined, too—and as a Gold Member! I wanted to see what all the hype was about and if I, truly, could draw traffic to my various websites. The results were amazing, and I am happy with the interaction and free leads! Sending traffic has upped my conversion rate for each of my businesses!
MoneyLine Review: Legit? Profitable? Do You Really Generate Free Leads?
THE OVERVIEW & RANKINGS: 
Company Name: MoneyLine
Website URL: https://secure.globalmoneyline.com
Training: 4.0 out of 5.0
Support: 4.2 out of 5.0
Success Stories: 4.5 out of 5.0 (by determining from the site)
Price: Starter Member (FREE)
Reason for signing up: Free Leads and income.
HEN Affiliates Rating: 4.1 out of 5.0
Potential to make money: Great– with some email and message interaction.
Cost: Free, $20, $50, $100, $250 and $500–Tier System.
MoneyLine Review
MoneyLine is a platform that, with their FREE sign up, the process begins for you to start building a list of free leads. They call these leads your MoneyLine. From the moment you join, anyone who signs up after you becomes part of your MoneyLine.
Therefore, no matter where anyone is located in the world, you automatically begin gaining free leads—and everyone that signs up after you is automatically placed below you in your MoneyLine.
The concept itself is very cool and a clever and doable idea. I certainly have never heart of anything else like this. So your MoneyLine will keep growing and growing consistently every day!
MoneyLine Review
THE LEVERAGE COMPENSATION PLAN
There is also another feature to MoneyLine and, quite possible, the most important one. MoneyLine offers a Leverage Compensation Plan that is immediately connected to your MoneyLine. This is the referral system and where you can definitely make money!
SENDING YOUR FREE LEADS TO YOUR BUSINESS PROMOTION:
As a Bronze member, you can only send one lead at a time to your MoneyLine. This can take some time. However, the higher your member upgrades, the more people you can send links and promotions to in your MoneyLine.
BRONZE MEMBERSHIP
You begin the process by setting up your $20 one-time payment to sign up for a Bronze Membership.
Payout 1
After you refer 2 people to MoneyLine who go Bronze and pay $20, all the next referral sales go to you! By setting up your PayPal account to receive the instant cash, and you are in line to make this money! You instantly start getting 100% commissions on every $20 Bronze package you refer / every personal referral you ever make. And the $20? Well, that money goes straight to your PayPal account! Plus, this is while you are receiving free leads galore every minute!
MoneyLine Review
Watch the Video Below to see the entire payout system!
There are many more payouts to come!
PROS
It's Free to sign up.
And, you can begin sending messages right away.
It allows Global reach for free leads.
Your MoneyLine starts building even when you're not working it.
Advertising your business and site is a huge plus by adding MoneyLine.
You can gain traffic for your site!
The payment for packages does not repeat monthly, but yearly.
Common interest occurs with all your sign ups. They want to do the same thing!
Their website is secure.
You have a great potential to make an additional income stream from referrals.
CONS
As a Starter member, you can only send your link and business promotion to one person at a time.
Constant upselling can be tedious.
The company is fairly new (2016). However, it is always advancing in terms of opportunities.
A lot of time is spent promoting by email.
MoneyLine Review
Therefore, I can see by the promotions and posted profiles of the top money making members on the site, that a great many people have made and are making lots of money with this platform. So, for a young business, it is doing quite well, to say the least! There is nice potential for creating free leads and earning a substantial income.
So you see, It was a no-brainer to me, and when looking into the platform of MoneyLine further and more indepth, I upgraded to a Silver and then a Gold membership. I broke even soon after and have established some nice income.
 HOW I CAME TO KNOW MONEYLINE
So, I was referred to MoneyLine by a friend from Wealthy Affiliate (WA). I joined and became part of her downline. By building traffic-producing websites at WA, I thought the need was there to now get traffic to them! In the positive, I've found that one compliments the other very nicely!
The option of MoneyLine is a much better and cost efficient way to getting traffic (free leads) than the alternative—PPC (Pay Per Click) a.k.a. paid ads.
I have also found that Social Media is a good avenue to take in order to get MoneyLine referrals. Social media has become a great way to generate free leads!
MoneyLine is a platform that creates leads for you to promote your business. A WIN-WIN!
TRY WEALTHY AFFILIATE OUT FOR FREE!

THE PLATFORM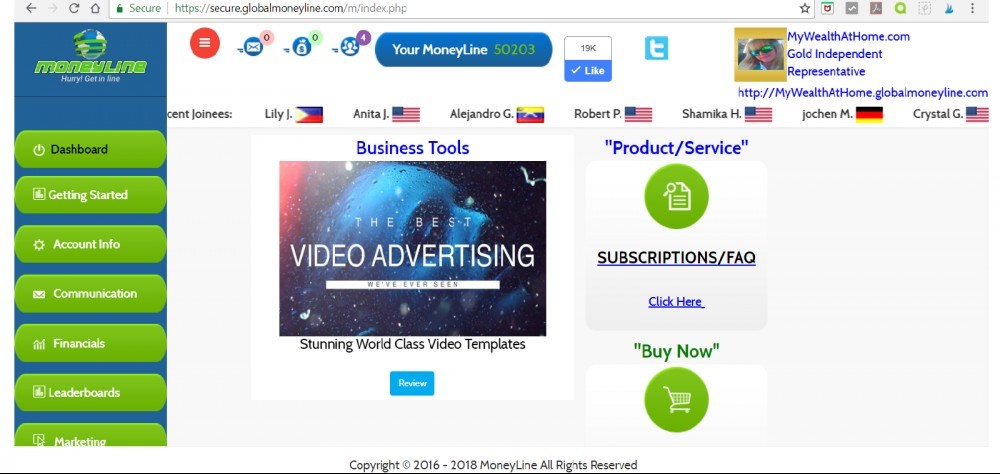 From the Dashboard, the green buttons on the left are menus where you'll find out all the information you will need to know and what you'll need to do. Exploring is the best way to learn! Also, watch all the videos, as well.
Within all the GREEN links are ALL the videos!
The names and flags across the top are all the newest MoneyLine people who have just signed up and are in YOUR MoneyLine.

SUBSCRIPTIONS AND HOW THEY WORK
Everyone starts with the Free Package – Free lets you to send 1 message at a time to your MoneyLine.
Bronze Package – $20 – Bronze lets you to send 20 messages at a time.
Silver Package – $50 – Silver lets you to send 50 messages at a time.
Gold Package – $100 – Gold lets you to send 100 messages at a time.
Platinum Package – $250 – Platinum lets you to send 250 messages at a time.
Diamond Package – $500 – Diamone lets you to send 500 messages at a time.
Double Diamond – $1000 – Double Diamond lets you to send 1000 messages at a time.
Key Points
The upgrades: The subscriptions help save time—The higher the package, the more people you can promote your business to at a time. Plus, the more promoting you can do and money you can make!
The Package Payments- Yes, there is good news on the horizon! The subscriptions give you access to more of your MoneyLine free leads to advertise to and reach out to all at once. Then, you can use this to continuously post links to your MoneyLine, and it will grow larger and larger as the days and months progress!
Did you know, free leads are not affected from the subscriptions. So, you get endless free leads anyway!
Final Verdict
It is a LEGIT business!
MoneyLine Review
Well, it is definitely worth a shot, especially to sign up for free and see what's it's all about. It will build you up a very large MoneyLine—if and when you are ready to use it!
THINGS TO REMEMBER AND KNOW BEFORE YOU GO!
Did you know, signing into your MoneyLine for the first time verifies your account!
Also, construct an email list and write up some easy instructions for each member to follow when they sign up. You can use some bullet points below!
Once in your MoneyLine, go to the GETTING STARTED green link on the left and watch the videos. Scroll down to the bottom of each page to get the whole picture of MoneyLine.
Then, set up your account and get your MoneyLine promotion link.
SIGNING UP FOR YOUR BRONZE SUBSCRIPTION
So, you will sign up for your BRONZE SUBSCRIPTION for a one-time only fee of $20. (After getting 2 signups, the 3rd and signups thereafter will be paying you through PayPal or through your preferred method of payment).
Please note, you can view the Subscription Level Videos for Bronze, Silver, Gold, etc. by clicking on the SUBSCRIPTIONS/FAQ link on your Getting Started page.
IMPORTANT–PLEASE NOTE: AFTER YOU BECOME BRONZE AND GET YOUR 2 PROSPECTS WHO BECOME BRONZE, THEN YOU WILL WANT TO UPGRADE to SILVER OR GOLD. NOTE: IF YOUR PROSPECTS GO SILVER OR GOLD BEFORE YOU DO, YOU'LL LOSE A GREAT DEAL OF MONEY (Their upgrade costs!!) MAKE SURE TO HAVE THEM TELL YOU BEFORE THEY UPGRADE TO MAKE SURE YOU ARE AT THAT LEVEL, FIRST!
NOW WHAT?
Then, get two prospects to sign up for a free account with MoneyLine by using your Money Line promotion link. You can use it on Social Media, in emails or on your website–anywhere you'd like to promote!
Now, set up your Payment Defaults to get paid by clicking the Green FINANCIALS button and go to SET PAYMENT DEFAULTS. NOTE: If you're setting up through PayPal, make sure you use the following message that will be typed underneath "YOUR INFORMATION MESSAGE TO PURCHASER ABOUT THEIR ORDER."
Therefore, Message to type: VERY IMPORTANT!! Make sure when you're in PayPal, to select "PAY FRIENDS AND FAMILY" in order to get your subscription faster! The other PayPal options will delay your order up to 21 days! Thank you and enjoy!
YOU'RE GETTING THERE!
Once you have your 2 prospects and they sign up for a BRONZE SUBSCRIPTION, you will then apply to become an IR (Independent Representative). To do this, Click on the Green MARKETING link and click on the IR Opportunity link. Watch the videos and then scroll down to the bottom, where you will click the very last IR link to sign up.
Then, as an IR, you will be in place to earn $20 on each prospect you sign up that goes Bronze after that!! As upgrades take place to SILVER and GOLD subscriptions, the money you receive increases!—You get their subscription payments! $50 — SILVER, $100 — GOLD. With that in mind, you will definitely want to upgrade after you become an IR! You have to upgrade to Silver first, and then Gold…and even beyond, if you want (as you make the big bucks!)
REMEMBER TO SUBMIT YOUR AD EACH DAY! To do this, click on the blue Your MoneyLine link at the top of the page on your Dashboard. There will be a number associated with it. That is the number of people who have signed up after you that are in your MoneyLine!
Lastly, design a business add that you want to go out to the group of people in your MoneyLine. You can look at others to get ideas. HINT: Use all CAPS in your ad to make them stand out!
Then place your business link below the ad in the space provided. Check the box above the people listed. As a Bronze Subscriber, you will be able to check 20 names at a time. Silver: 50 names, Gold: 100 names. Click SEND! Do this until you send your message to all the people listed.
HELPFUL HINTS:
Also, REMEMBER TO WATCH ALL THE VIDEOS AND GO THROUGH ALL THE LINKS WITHIN THE GREEN BUTTONS TO FAMILIARIZE YOURSELF WITH EVERYTHING! WHATEVER I DIDN'T MENTION HERE WILL BE IN THE VIDEOS!
NOTE: When you train your prospects, use some of these bulletpoints and other information that they may need to know when teaching them the ropes! It will be wonderfully duplicatable!  When you construct one message, you can save it and send it to all your referrals!
Your thoughts and comments are of great value to this site! I would love to hear your input!