This post may contain affiliate links. For more information, visit my disclosure page.
Also, "as an Amazon Associate I earn from qualifying purchases."


HOW TO MAKE MONEY WHILE SLEEPING: 5 Passive Income Ideas from Millionaires 2022
Yes, I'm sure it's true that you have closed your eyes, fell into a deep sleep and dreamed about being stinking wealthy. However, you then woke up, once again, to the disappointing fact that your bank account is the same as it was the day before. That can be such a bummer! Having pleasant dreams of prosperity doesn't just have to be a figment of your sleep imagination. What if you woke up to these night time dreams of wealth coming true?! And, not just one time, but each and every day! Yes, that would be something, wouldn't it?
Ideally, it not only would help you sleep much better knowing your money was increasing, but it would also give you the time to enjoy it!
So, what I mean here is that you are literally dreaming about being wealthy and are becoming wealthy as you dream! Cool, huh?!
PASSIVE INCOME IDEAS 2022
I've always thought highly of wealthy people. Do you know why? Well, it's because of the way they "think" about money. Their philosophy of the subject is not the same as you or I make it out to be. No, quite the contrary! In fact, they think about all the ways in which their money can work for them—not the ways they can work for their money! So, this is called Passive Income.
Today, let me give you a brief rundown of what Passive Income is, and share some suggestions on how you can create Passive Income with no money down at all. And, there's no better information out there that compares to the insight I am about to share with you—how millionaires and those building a successful business reached their goals. Yes, so many have shared the different roads they took to earn Passive Income. And, here are some examples.
WHAT ACTUALLY IS PASSIVE INCOME?
To simplify things, Passive Income is money made without continued work–money that requires a lot of work upfront. And, after some time, this money starts to accrue. Plus, any work done afterwards is almost always very little, if any work at all.
WELL, WHAT ABOUT ACTIVE INCOME?
Active Income, on the other hand, is when you "actively" have to keep working to make the money. Well, a great example of Active Income is the typical 9 to 5 job—where, if you don't work, you don't get paid. So, it is ongoing work. Now, do you see why I LOVE Passive Income? Yes, I would much prefer not to trade my time for money if I don't have to.
WHAT IS YOUR OCCUPATION?
So, let's consider your current occupation. It may or may not be tough to become wealthy depending primarily on Active Income—and even with one form of Passive Income. However, it is possible to continue your current form of income and add one or two Passive Income possibilities. In fact, this is what many millionaires have done to build up to their millions!
Please Note: If you are looking for additional Passive Income ideas, I have some helpful articles and links that will list for you work home job openings, 14 ways to advance in 2022–passive income, legit work at home jobs, top 10 affiliate marketing programs, become your own CEO, make Pinterest your full time job, publish an eBook on Kindle, how to retire young–retire rich, get a more traffic blog, make a business plan for a small business, start in an online business, create a business website for free–11 tips, start internet marketing at home, create a side hustle designing websites, start an online business for free now, how to progress in 2022 with 6 mammoth changes from 2018, platform designed for affiliate marketers of all levels, free SiteRubix website builder, women entrepreneur ideas, women empowerment 2022, 2022 Ultimate MMO Guide (for money seekers).
BEST WAYS TO MAKE MONEY WHILE SLEEPING
So getting back to my initial topic, what are some ways you can make money while sleeping? Well, as we discussed above, this is the biggest goal for everyone. Yes, we established that it takes a lot of time and hard work. And, once you start making money, you can even earn more than you expected.
So, earning on the internet has become an easy way of life for thousands and thousands of individuals and couples. People from all walks of life are finding out how easy it can be to earn a Passive Income online by making thousands per month, or even millions.
So, I am here today to discuss 5 of those ways that may interest you in making money while sleeping. By the way, these ways I will to tell you about are what's currently trending online.
1.  START BLOGGING:
Yes, blogging has not only become a fun past time of so many, but also a way of life. In fact, some are making more than 1 million dollars a year. Blogging, in essence, is helping others with solutions to interests or challenges they are searching for online. And, you can teach or inform them of what they are looking for.
For Example, some may be after a certain product. Or, maybe they are facing a challenge they want to look more into. So, to assist particular inquisitors, you need to come up with a niche.
NICHES ARE WHAT YOU'RE ALL ABOUT.
Niches are a topic or passion you are interested in or know a lot about. You then write a huge amount of content (blog posts) that will answer questions and give insight on these particular topics. Of course, in order to produce a blog site, you will need to acquire one first.
For this, my best recommendation is to go to SiteRubix and build a custom website for free. And, you can create one in under a minute! Just think, setting up an online business in less than a minute's time!
Furthermore, as you get readers to your blog, you can then monetize your website. This leads me to the next way in which to make money while sleeping.
2. AFFILIATE MARKETING
So, once you have your blog set up, there are endless opportunities in which to monetize it. This is where the fun comes in—earning revenue for all your efforts! Now, you have built a trusted audience and are interacting through comments, chats, emails, etc. In other words, you have gained their trust, and now are ready to make some conversions.

Affiliate Marketing is a marketing arrangement that takes place when an online retailer pays out commissions to an external website owner for traffic or sales produced from its referrals. So, you can sign up to be an affiliate for such retailers as Amazon, Apple, Walmart and Wayfair—and affiliate platforms like ShareASale/Awin, JVZoo, VigLink and Rakuten.
My top pick for an Affiliate Marketing platform is Wealthy Affiliate.
Read my WA Review: Legit Work at Home Jobs.
Find out more about the Wealthy Affiliate platform. Success is right around the corner! 
Plus, they have the #1 Training Courses in the Affiliate Marketing industry.
MONETIZING FROM BLOGGING
1.  Google Adsense Ads: place Google ads on your site. When people click on them, you earn a commission.
2.  Banner Ads: place affiliate banners on your site.
3.  Affiliate Links: place links and recommend products or services on your site.
4.  Products and eBooks: place links and sell your own products or eBooks on your site.
5.  Promoting Other People's Websites: placing other website links on your site (selling backlinks) and promoting them.
3.  WRITE AND SELL AN EBOOK
Interestingly, if you have a great topic and content, writing an eBook is one of the best ways to make money! I think, we are all authors in our own way. In other words, we all have the capability of expressing ourselves through our experiences, passion, skills and knowledge, in a way that is unique—and most effective, too!
So, if you are intelligent in a particular subject, such as gaming, and have an interest in it, you can capture that same interest in others with an eBook. However, if you don't know very much about it, the internet is a goldmine for research. Plus, gaming is a hot topic nowadays.
Learning how to publish an eBook on Kindle is quite easy, and there is an in-depth walk-through to guide you in a precise step-by-step format. Then, promote your eBook on your website. One way, is to ask for reviews. Your readers will be your conversions! Also, share your eBook with friends, family and in social media circles.
It is quite possible to make $500 or even $1000 a month–and with no investment.
4.  CREATE A YOUTUBE CHANNEL
The wave of the future is now here! Yes, YouTubers have a huge advantage in the Online Marketing world by making and promoting videos. There are hundreds of thousands of dollars to be made here! Initially, it does take time to make income and you have to work consistently. However, it is a fun process.
In the same way as Affiliate Marketing, YouTube videos reach out to pretty much everyone. So, anyone searching for a particular need or product, a "how to" or service, searches on YouTube. And, instead of writing content you produce videos.
Futhermore, you will be sending your followers to your website, which is full of interesting content. This also establishes trust and keeps your viewers coming back for more!
ADS, ADS AND MORE ADS!
YouTube ads are the best way to profit in a massive way. Just like on your blog, you can use Google Adsense ads and PPC (Pay Per Click) ads.
Also, it's always a good idea to have more than one YouTube Channel. Plus, YouTube works best for those who update their channels regularly and upload new videos consistently. Therefore, doing this helps YouTube's algorithm to find you, which in turn, ups your rank.
It may take a year or more to get widely noticed, just as with any online business, but the road to that point is so worth it!
So, you can monetize your YouTube Channel by:
uploading 2-3 videos per week
placing Google Adsense ads and PPC ads on your videos
placing affiliate links in the description
driving traffic to your blog with blog links
5.  CREATE AND SELL ONLINE COURSES
As your brand grows and becomes popular within the online world, you can make a killing creating and selling courses with the knowledge you've put forth. So, why not create a social media presence, blog, YouTube channels, etc. and become a force to be reckoned with?! People will want to learn from you and will pay pretty much any amount of money to do so.
SALES FUNNELS WILL DO THE TRICK
A great way to promote your course is to create sales funnels. And, the best place to do so is at ClickFunnels. 
"ClickFunnels Gives You EVERYTHING You Need To Market, Sell, and Deliver Your Products and Services Online!" 
On the ClickFunnels platform, you will learn how to create multiple sales funnels and upsells to earn huge conversions on what you are selling. In fact, ClickFunnels can also be used to promote anything you are selling! You will want to definitely implement this process into your online business.
Selling an online course is an incredible way to make money while sleeping! Creating your brand using the skills you have, provides you with Passive Income.
This article is PACKED with tons of great information, so make sure to "PIN IT" so you can refer back to it often!
ANOTHER GOLDEN TOOL
When you do, you will also receive my Online Training Guide and 6-Day Email Series with step-by-step instructions. –Free for a limited time!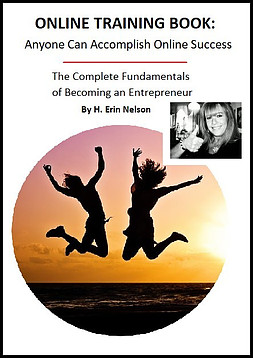 Let me guide you to building a successful online business today. There is a "wealth" of information packed into these important and special courses.
THANK YOU FOR READING MY BLOG. I VALUE YOUR INPUT—PLEASE LET ME KNOW ANY THOUGHTS YOU HAVE ON THIS SUBJECT IN THE "COMMENTS" SECTION BELOW. Thank you! H. Erin Nelson, Entrepreneur
SWEET DREAMS!!!
INSIGHTFUL POSTS TO HELP YOU TAKE THE PATH THAT'S RIGHT FOR YOU: